Playgrounds are very sensitive areas where safety is a top priority.
Parents and guardians gather with their children in these areas for safe recreational activity and socializing. When kids play and adults chat at a playground, everyone is affected by the type of terrain at the location.
Artificial grass is a popular choice in these high-traffic locations, where regular maintenance is sometimes hard to complete. Not only does it provide safety and efficiency benefits, it looks the part of a real lawn.
From covering up potholes in the ground's surface to providing a little extra cushion, artificial turf is a great solution for playgrounds, parks, and similar areas.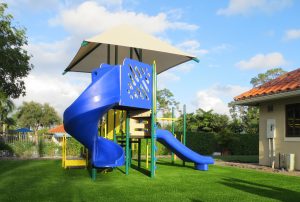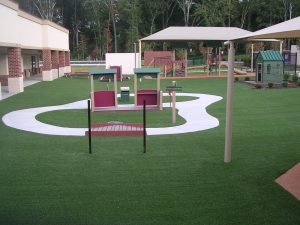 FAKE GRASS HELPS IMPROVE SAFETY
Safety should always be a top priority at playgrounds. Parents and guardians won't choose a playground that isn't secure, and one of the most important factors is the terrain. Even if the area is in a safe location, the ground can pose many safety hazards.
If there are uneven spots with holes or rocks sticking out, children risk injury while they're playing. Likewise, overgrown lawns at playgrounds sometimes hide pests and other hazards. Synthetic grass has the look of a regular lawn, but it helps avoid these common safety hazards.
Synthetic turf is installed to be even across all areas, eliminating variations in the ground and reducing tripping hazards.
Synthetic grass won't become overgrown and hide insects that could also pose a threat to visitors. Playground safety surfacing should have some type of cushion, and synthetic grass provides this as well. Using synthetic turf for playground surfacing can't prevent injuries altogether, but it can provide some added protection if an accident does occur.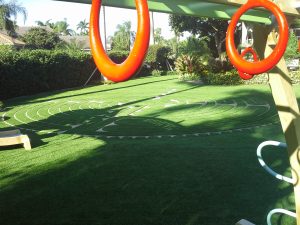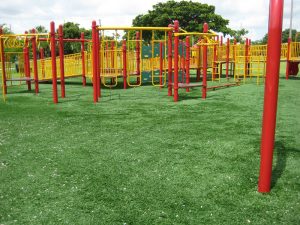 SYNTHETIC TURF FOR DAYCARE CENTERS
Daycare facilities are known for a lot of traffic, and this can cause a lawn to wear down quickly. Not only does synthetic turf work well for areas where children and toddlers are frequently present, but it also boasts an impressive amount of durability.
Using surfaces like tiles or wood in playrooms and on decks can lead to many repair needs in the future. When these surfaces begin to wear down, it is very likely they will never fully recover. Instead of investing in repairs often, many facilities are now saving in the long-term by switching over to synthetic turf.
To keep children safe, daycare centers should spare no expense. Luckily, it is possible to get synthetic turf for a very affordable price. There was a time when this turf was rare and only found on golf courses and other similar locations. Improvements in the creation of fake grass has made it more reliable, and it is easier than ever to get fake grass installed at your location.
MAINTAINING SAFE PLAYGROUND TURF FOR CHILDREN
Keeping a playground in good condition is important for making sure it serves its primary purpose. People cannot socialize and interact peacefully if the environment is not maintained well. Whether you are a public official who is tasked with getting maintenance done for the local park, or you own a daycare center and want to reduce costs, servicing for synthetic turf is available from our skilled team.
Not only can we install playground turf, we can also handle any repair and maintenance needs you may have. Whether you want to refurbish an old playground, or get a small section in your current fake grass fixed, we're here to help.
ADVANTAGES OVER COMMON PLAYGROUND SURFACES
Compared to other common surfaces used at playgrounds and daycare centers, fake grass has plenty of advantages. Aside from the benefits it provides over regular grass, it is a much safer choice than cement.
Pavement is still a popular material for playgrounds, but the hard surface and potential for high temperatures may it a clear safety hazard. Synthetic turf helps you avoid worrying about these hazards at your playground.
Sand is another popular material found at playgrounds and childcare organizations. While sand is soft, it can also be very messy and hard to get out of clothing. In addition to being easy to track indoors and into vehicles, sand's lumpy nature can sometimes even be a tripping hazard. Fake grass is even and neat, making the problems associated with sand a thing of the past.
Upgrading a playground or a facility dedicated to child care means have the proper equipment. Playground flooring is one of the most fundamental components that affects a child's experience. Switching to fake grass is a great choice for playgrounds of all sizes.
UPGRADE A PLAYGROUND WITH SYNTHETIC TURF
Playground surfaces can either be protective or hazardous. They can require tons of time and energy to keep up or provide long-term use with little upkeep.
To find out more about how synthetic turf can be used to improve your facility, contact Complete Synthetic Turf today!