Artificial Grass For Pools
ARTIFICIAL GRASS SURROUNDING THE POOL
In Florida we spend a lot of time around pools, especially in the summer. Natural grass can often make a pool harder to keep clean. People going into the pool can track natural grass into the pool with them and make it harder to keep up the pool maintenance. 
Installing artificial grass around a pool solves this problem. It looks great while helping to keep the pool clean allowing homeowners more time in the pool instead of worrying about cleaning it.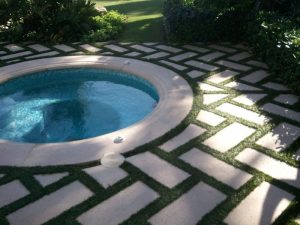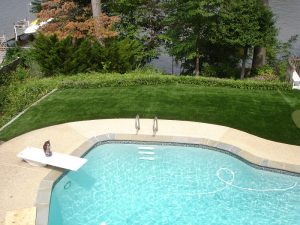 LESS TRACKING MUD INTO THE POOL AND HOUSE
When people are enjoying a pool they tend to splash water around the pool. If there is natural grass, when it gets wet it can become weak and muddy. People can track mud and grass not only into the pool but into the house as well.   When you have professionally installed artificial grass around a pool area there is no mud created so you have less clean up in the house and no clogging in the pool by artificial grass. In addition to that, there is a natural drainage system under the artificial grass which keeps the surface dry, reducing the possibility of slipping.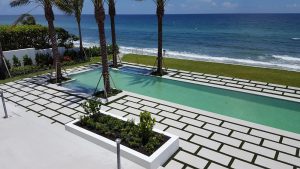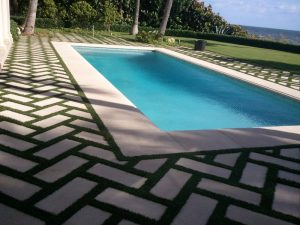 ARTIFICIAL GRASS MEANS LESS MAINTENANCE
Natural grass requires much more maintenance than artificial grass including mowing, weeding, watering, clipping, trimming and fertilizing. The tools used to maintain natural grass can damage pools structures. This doesn't happen with artificial grass. It never needs to be watered, cut or fertilized and looks great too.
ARTIFICIAL GRASS IS NATURAL LOOKING
Artificial grass looks more natural than ever before. Artificial grass around a pool area is a good idea because it saves time on pool maintenance, is convenient and it can be customized and designed to your specifications. Pool time can be much more enjoyable for family and friends with professionally installed synthetic grass.
Get a Free Consulatation & Estimate | Fill out our form
Call or email us at any time. No residential or commercial request is too big for us to handle.