Having pets adds another layer of complexity when it comes to maintaining your lawn.
Animals will affect your grass, and your grass will affect your animals. Having pets means protecting your lawn from them. Problems with your lawn could also put the animal in danger.
While it is natural for animals to tear up or wear down lawns, owners now have a new option. Artificial grass offers the look of a real lawn, and the improved design of recent decades makes artificial turf a better option than ever before.
Not only is the K9 turf easy to maintain, but it can withstand the damages dogs are known to inflict. Don't choose between your furry friend and a great-looking lawn when you can have both! The non-absorbent, low-maintenance, cushioned surface will look great and hold up against wear and tear while ensuring your animal isn't put in danger.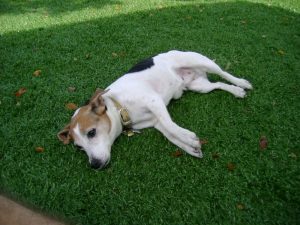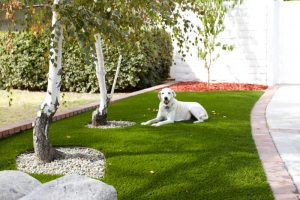 WHY PETS PUT LAWNS AT RISK
Whether it's doing their business or digging up certain areas, pets can impact lawns in various ways. Unfortunately, frequent instances like this can result in a lawn being damaged beyond repair. The result is often bare spots, discoloration, and uneven growth.
While certain products discourage pets from this behavior, no one likes the idea of affecting their animal in a negative way. A better solution is to switch to fake grass for pets, preserving the look of a great lawn while ensuring the material will last no matter how many pets you have.
While pets may have a major impact on your lawn due to their own excitement and natural instincts, your lawn can also affect your pets.
Owners don't want to do anything to jeopardize the safety of their pets. It can be difficult to care for your lawn if you have traditional grass, since many of the materials and solutions used are often hazardous to animals.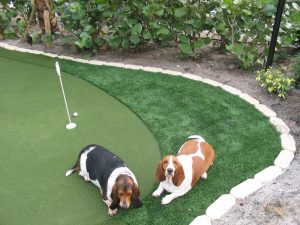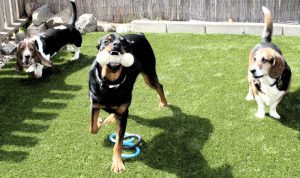 BENEFITS OF FAKE GRASS FOR DOGS
Fake grass is a safe solution for dog owners. Though the name makes people worry about the possibility of hazardous ingredients, the synthetic design means no toxic or hazardous materials are included. Not only is the turf safe, but it helps you avoid using harsh chemicals to care for your lawn.
Cleaners, fertilizers, and nutrient solutions can sometimes contain toxic materials that pose a fatal danger to animals. Spraying these chemicals is a regular task if you use real grass, but this can put your pet in constant danger.
One of the main benefits of artificial grass for dogs is that it means they can sniff and roll around without coming in contact with any of these harsh agents. The low-maintenance design of synthetic turf makes it a great choice for dog owners who want to keep their pets away from dangerous lawn products.
You won't be using chemicals to care for your artificial turf, and this durable terrain only needs minimal upkeep.
ADDITIONAL BENEFITS OF PET TURF
Pet Turf helps eliminate puddling. Have you ever walked out onto your lawn and seen big puddles after heavy rain, especially here in South Florida. The ground becomes saturated and there's no place for all the excess water to drain. It just sits and slowly drains into the ground over several hours.
When artificial grass is installed, the ground is prepared and irrigation ducts help route water for drainage. You shouldn't see any puddles after that. No more muddy paws inside the house!
And by eliminating the use of toxic fertilizers and pesticides, for many it will reduce or eliminate allergy symptoms for both pets and humans alike.
IS FAKE GRASS EASY TO CLEAN?
K9 grass holds up against the enthusiasm of even the biggest pets, preventing common problems like pits and discoloration. However, your synthetic grass will need to be cleaned regularly to keep it in good condition and extend its lifespan.
If you have artificial turf for dogs, you'll benefit heavily from its non-absorbent nature. This helps prevent the faded spots and worn-down areas pets can create. When cleaning this terrain, you can run water on it and allow it to soak through. The material makes it easy to spray away unwanted debris or waste on the turf.
GETTING ARTIFICIAL GRASS FOR DOGS
If you're ready to redo your lawn and make things a bit more welcoming (and well prepared) for your K9, contact Complete Synthetic Turf. Our products are designed to withstand the hazards presented by dogs while also creating a safer environment for the animals.
You'll be able to enjoy the look of a regular lawn without dealing with the regular maintenance they require. Cut costs, save energy, and avoid the headaches of watching your dogs tear up your grass. Switch to synthetic turf and never worry about it again.
To find out more about fake grass for dogs, contact Complete Synthetic Turf today!